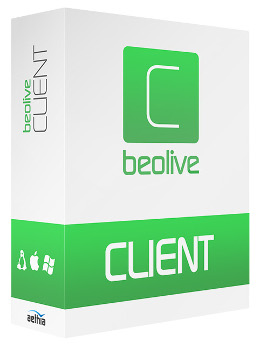 Beolive Client is a user friendly software which makes the Linux HPC systems technology suitable for all. It is designed to simplify the administration and the usage of clusters or multi-processor servers by an easy and intuitive user interface. It is a modular software and each module is dedicated to specific taks (monitoring, nodes setup, users management, processes ...).
Thanks to the experience gained in more than 15 years of work beside the users of HPC systems, we have built a simple and powerful software to satisfy the effective needs of users. Beolive Client was designed to be modular and it can be easily customized by adding new functions on demand.
Beolive Client is differentiating as it addresses its final customers, not only the administrator. With Beolive Client it is not necessary for you to be able to work with Linux shell, but you can launch computational applications and manage your data with the mouse, using simple guided graphical panels.
Main advantages
Intuitive graphical interface: Beolive Client offers an ergonomic and intuitive work environment, it is an application installed locally on your own computer and has an easy to use and quick user interface.
Simplified cluster management: ordinary management can be performed through guided and intuitive graphical panels (e.g. monitoring operation status and workload, user accounts management, ...), all that by operating remotely from your own computer or any other network device.
High tools integration: all the tools are integrated and can be easily accessed, you can work only with your mouse, or, for those who are more confortable, with the shell module.
Simplified cluster usage: the user can transfer files from and to the cluster/server, verify the availability of the computational resources, launch its own jobs and control their progress.
Multi-systems support: Beolive Client let's you create several connections to different systems, and lets you control many systems from a single location.
Light architecture: Beolive Client is optimized in order to not affect performances and to minimize the network traffic between the cluster/server and your own computer.
Easy to install: Beolive Client is installed on your PC with a simple setup procedure, is compatible with Linux, Windows and MAC OSX; the only requirement is that the cluster can be access by your computer through an SSH connection.
Beolive Client basic modules
Summary: information about the system
Status: nodes and workload status, with the possibility to reboot/power off/power on nodes
Nodes: check and modify the nodes configuration
Hardware: diagnostic information related to the hardware state (through IPMI)
Users: user accounts and ACL management
File manager: SFTP client for files/folders transfer and management
Processes: management of processes running on all nodes
Torque queues: Torque queues configuration
Torque jobs: star, monitor and manage of Torque jobs
Shell: terminal emulator for using the Linux shell
In evidence
Beolive Client is integrated into Beolive Cluster Manager: