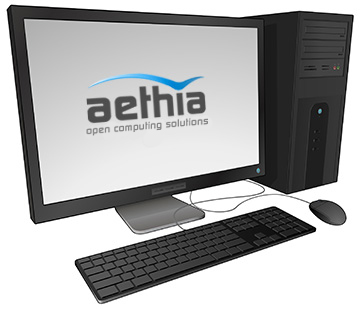 Tera-W is a workstation based on high quality hardware and on an open source software platform which brings you an excellent price/performance ratio. We can work with applications from different professional environments, among which:
Scientific calculations
CAD 2D and 3D drawing
Data processing and management
Visualization and advanced graphics
Virtual prototyping
Numerical simulation
Software development
Rendering, animations and video setting
Configure and request a quotation
What you buy
Workstation with 2 sockets for Intel Xeon processors
Un chassis tower or mid-tower with 2 CPU Xeon, RAM starting from 32 GB, dual hard-disk in RAID1 starting from 300 GB SATA 10,000 RPM, dedicated Nvidia graphic card
Linux with 64 bit (distribution by choice), 6 months remote support (which is renewable at the expiry date)
Hardware warranty, starting from 2 years on-centre
Additionally, as options:
Aethia HPC Suite software platform
Extension of hardware warranty and of the software support service
Monitor, keyboard and ergonomic mouse
Graphic card Nvidia Quadro/Tesla for advanced graphics or GPU computing
UPS: continuity tower group
User data backup solution
Purchase on instalments with tools renting
Advantages
Up to 24 processors on the same computer.
A high performance working station with a low initial investment.
A complete turnkey product: we handle the installation, configuration, testing, staff training and software maintenance service.
It is also available with Intel® Xeon® processors from 4 to 24 core: our experts can support you.
Aethia HPC Suite: all the software you need is already included!
It includes 6 months remote technical support (which is renewable at the expiry date).
Typical applications
Individual researchers or small research groups
Professional offices
Research & development and/or design departments
Software development
Do you need more?
Talk to our HPC experts to customize the solution based on your needs. Our consulting services include data study and analysis, design, implementation, completion and optimization of parallel and non-parallel computation algorithms, developing applications and ad hoc software environment and many others.