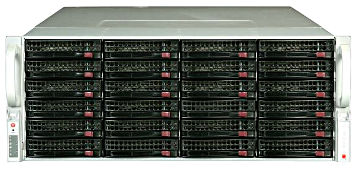 EXA-S1 is a storage server extremely flexible, fast and economic, designed to store big amounts of data with an excellent price, performance and capacity ratio.
EXA-S1 storage is appropriate for applications as:
data analysis and post-processing
backup and long-term archiving
big data
high performance computing
What you buy
A server with 4U rack chassis able to host up to 24 disks: 96 TB maximum raw capacity
A mainboard with 2 Intel Xeon CPUs, RAM starting from 32 GB, management IPMI2
A 24 port Adaptech SAS/SATA controller
The possibility to install up to 24 SAS II hard disks (1-4 TB) 7.200 RPM or 15.000 RPM (300-600 GB)
Communication interface 1 Gb/s Ethernet
64 bits Linux operative system configured to support the most common access protocols (SMB/CFS, NFS, AFP, FTP/SFTP, iSCSI, iSER/SRP, ...)
Hardware warranty, starting from 2 years on center
In addition, as options:
10 Gb/s Ethernet or 40/56 Gb/s Infiniband communication interface
Extension of the hardware warranty and of the software support service
UPS (rack mount or tower)
Software for data backup
Remote monitoring service with email/SMS alerts
Full-managed service: management of the system on our side (you can dedicate yourself to your work, we take care of the rest)
Housing system in our server rooms
Deferred payment through renting programs
Advantages
It is a flexible system, which can be interfaced with any host and configured ad hoc due to the Linux operative system.
It can be used to store large amounts of data in an economic fashion, but also as a high throughput storage by adding the Infiniband option.
It is compatible with all main client protocols and applications, in a fully transparent way.
A complete turnkey product: we handle the installation, configuration, testing, staff training and software maintenance service.
It includes 6 months remote technical support (renewable).
Typical applications
NAS or storage for:
Small and medium enterprises
Research and development departments
Universities and research centres
Do you need more?
Talk to our HPC experts to customize the solution according to your needs. Our consulting services include data analysis, design, implementation, integration and optimization of software applications and many others.