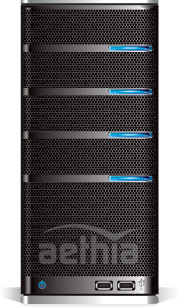 Exa-V is a server dedicated to cover the main necessities of SMEs, and as it uses open source software (Linux) and a modular configuration, it offers an excellent price/quality ratio.
Exa-V Servers are ready to use and they can be used for::
users and groups management
file sharing
print management
backup
DHCP, DNS, NTP, HTTP, FTP services
email (with webmail), calendar, contacts
networking & security: firewall, routing, QoS, HTTP proxy, RADIUS, VPN, IDS
compatibility with MS Active Directory and MS Exchange
Configure and request a quotation
What you buy
A server with 1, 2 or 4 sockets, with Intel Xeon or AMD Opteron processors
A tower or rack 2U chassis with Xeon or Opteron CPUs, RAM starting from 8 GB, dual hard-disk in RAID1 starting from 1 TB SATA 7.200 RPM, hardware management IPMI2
Linux operative system (enterprise class distribution by choice), 6 months remote support service (renewable)
Hardware warranty, starting from 2 years on-centre
Additionally, as options:
Extension of hardware warranty and software support service
Console with monitor, keyboard and mouse
Dedicated storage unit (Fiberchannel or iSCSI) or NAS
UPS (on rack or tower)
User data backup solution
Remote monitoring service with email/SMS alerts
Full-managed service: leave the full management of the engineering systems to us (you can be fully dedicated to your work, we take care of the rest)
Housing system in our server rooms
Deferred payment through renting programs
Advantages
It is a flexible system due to software modules which covers the main needs of small and medium LANs and allows customization of the server according to specific requirements.
You purchase an enterprise server with a low investment.
It is compatible with all main client protocols and applications, in a fully transparent way.
A complete turnkey product: we handle the installation, configuration, testing, staff training and software maintenance service.
It includes 6 months remote technical support (renewable).
Typical applications
Enterprise server for:
SMEs
Professional studios
Shops
No profit organizations
Do you need more?
Talk to our HPC experts to customize the solution according to your needs. Our consulting services include data analysis, design, implementation, integration and optimization of software applications and many others.