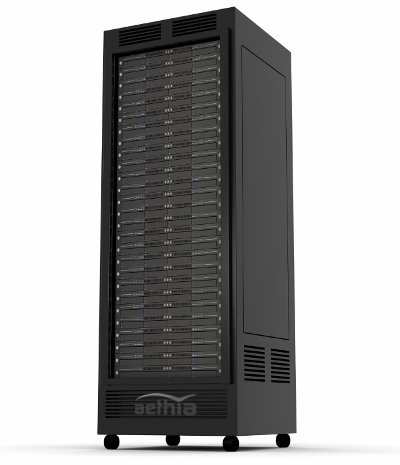 TERA-X is a modular multiprocessor computating system: you may choose the number of nodes according to your needs or let our HPC experts guide you to obtain a properly sized system. You can extend your cluster by adding new nodes in a simple and faster way, for example as your workloads increase.
TERA-X Cluster is ready to use and it is equipped with the all software necessary to work effectively. They are based on advanced hardware and software technologies, and bring to users high productivity and very short learning curves.
Configure and request a quotation
What you buy
A cluster for High Performance Computing with a front-end and a number of nodes that can be extended in time
A hardware configuration that includes:

25/42U fully-equipped rack
Frontend: 2U chassis, 1/2 Intel Xeon or AMD Opteron CPUs, RAM starting from 32 GB, double SAT3 hard disk in RAID1, IPMI2 hardware management
Computate nodes: 2U multi-node chassis (4 blades), each blade with 2 Xeon or Opteron CPU, RAM starting from 16 GB, hard-disk starting from 300 GB SATA 10.000 RPM, IPMI2 hardware management
Interconnection: 1 Gbit/s Ethernet - optional: Infiniband QDR/FDR 40/56 Gbit/s or Ethernet 10 Gbit/s
1U console cabinet with monitor, keyboard and mouse

Beolive Cluster Manager software
6 months remote support (reneweable)
Hardware warranty, starting from 2 years on-center
Additionally, as options:
Extension of hardware warranty and of the software support service
Dedicated storage unit (Fiberchannel or iSCSI) or NAS
Infiniband QDR/FDR 40/56 Gbit/s interconnection with high throughput and low latency
10 Gbit/s Ethernet interconnection
Nvidia Quadro/Tesla accelerator for GPU computing
UPS: on rack or tower
User data backup solution
Remote monitoring service with email/SMS alerts
Full-managed service: leave the full management of the engineering systems to us (you can be fully dedicated to your work, we take care of the rest)
Housing of the system in our server rooms
Deferred payment through renting programs
Advantages
Multi-node cluster expandable up to thousands of cores
Scalable system targeted to industrial applications and computating centres
A complete turnkey product: we handle the installation, configuration, testing, staff training and software maintenance service
It is available both with Intel Xeon and AMD Opteron (TM) processors: our experts can support you
Beolive Cluster Manager: all the software you need is already included!
It includes 6 months of remote technical support (reneweable)
Typical applications
Research & development and/or design departments
University departments and computating centres
Virtualization, consolidation and private cloud
ISP and mission-critical Internet applications ...
Do you need more?
Talk to our HPC experts to customize the solution according to your needs. Our consulting services include data study and analysis, design, implementation, integration and optimization of parallel and non-parallel computing algorithms, applications development and many others.